November 22nd, 2009
---
11:34 am - To my dearest Sheena Sister
I'm sorry for making this public, if you mind my love to you being read out by everyone.
But i really cannot help it!
Because im so happy i feel i can cry (and you know i dont cry often haha!)

Finally, CONGRATS for finding a really great awesome guy.
This time i'm really happy for you, because it seems like you've never been happier while being attached to other guys.
Remember there was a time when we depended on each other for love haha!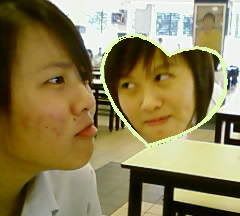 (Chicken, this picture is really ugly HAHA!)
Ok la, actually there was no such time, you were always attached. It was only me, always single. I always depended on you when im feeling down, emo level 3000. You tried your best to pull me out of that single status too, by offering to play volleyball with me every friday so i can attract someone's attention. You've been through everything with me, even including my 2.4km, where you literally push me to run.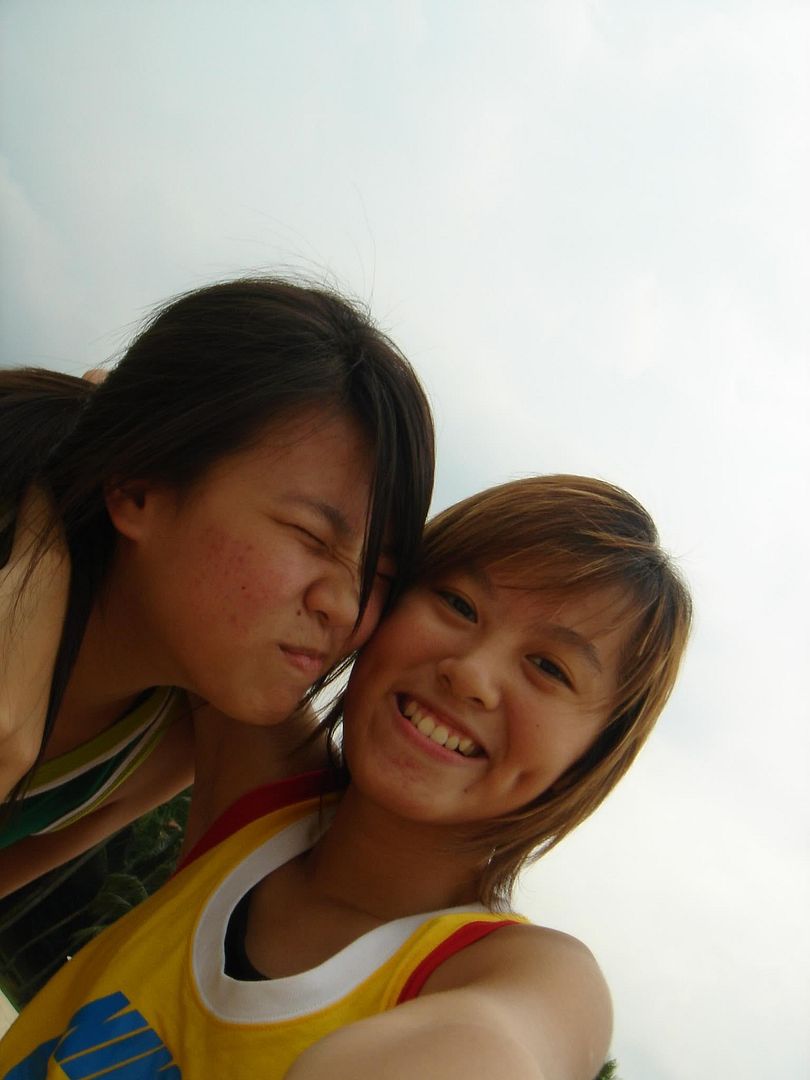 Now i promise you i will keep myself forever young and pretty so i can be your number.1 bridesmaid.
and maybe i will learn how to create videos, plan weddings, change diapers, communicate with kids so i can be with you on your every journey. Then qing ge will hate me cause im always the lightbulb hahaha! but then, i will try to make him happy by buying tiger prawns so we can compete in eating again.

The song, "lucky" by jason mraz and colbie calliet is truly dedicated to you two. Friends since primary school, lovers during secondary school, reunited again now, finally, i hope forever.

see now, you wasted 30 minutes of my precious studying time. haha just kidding sister, for you, i will do anything, except kissing you and all those physical stuffs. HAHA :P


p.s. mayo dont be jealous. i will do the same post when you get attached to the starhub guy/mr november/mr tang or any random guy on the street.




November 18th, 2009
---
04:59 pm - One thing left to do


I aim to learn to play this song by the next 5 months (trying to be realistic here) haha!
First things first though : get a guitar
To my sister from Perth, when is the white guitar getting shipped over? haha

November 17th, 2009
---
08:34 am - One pair of candy lips
What a cold morning :) It feels good to wake up early in the morning, go down for a walk and enjoy the breeze.
Looking at those busy working people running after buses and there i am, strolling with time on my hand.
Who am i kidding, after this blog post i am probably going back to sleep haha!

Am going to take a break from the school library today and study at home :)
You know how people always say theres soooo many things to do after exams, when in fact there's none?
This time, im serious, i really have wayyy too many things to do after exams.
I am going to learn how to make sushi (hopefully!), bake, play tennis again, maybe tabletennis too.
Have the best heartwarming christmas party ever with my loved ones.
anticipate the welcoming back of my sister, after almost 2 years from Perth
Move into my new room, get furniture, paint ourselves silly :)
And hopefully spend more time with kaiyin when monkey is away. Dunno if the other people from hall will still care about me though :(

So, for now, im gonna study really hard. No tears this time.
motivation never came any closer.
until now.

p.s. and sister, dont fret, a few more posts and spotdrops.wordpress will surface.
blogging is getting harder in this livejournal.

and John mayer is so talented, but sometimes he look like a bulldog.

November 13th, 2009
---
06:15 pm - OMG the killers
The killers are actually coming to Singapore! I cannot believe this, i cannot believe this, i cannot believe this.
I always tell my friends that i will only pay to watch The killers live.
Because they are awesome, live or not.

Tickets from $128 to $168 go on sale Nov 23 at Sistic outlets
Anyway wanna buy me an early 21st birthday present? hahaha.

November 7th, 2009
---
09:23 pm - Halloween Weekend
Im here to blog about possibly the best weekend i ever had. Never felt happier ever since mayo went back to indonesia a long time ago haha. Happiness.. ah you've been missed. It all started out with mayo suggesting doing something fun on halloween. So were like.. club? night safari? Sentosa? No to all, too troublesome. So we settled for a peaceful steamboat at mayo's house.

shes the ricest among us. so only her house can be used. this is mayo.




Not the dog. the person in black. by the way, the dog is so cute!!! The dog, not mayo.

(
HALLOWEEN!
Collapse
)


lets do it again soon! :)